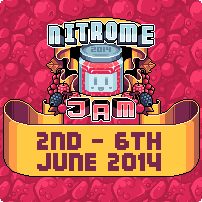 Hi Nitromians,
we are thrilled to announce the first ever Nitrome Game Jam! It is happening between June the 2nd and June the 6th 2014. During that time the Nitrome staff will be splitting into teams of two and making games inspired by a chosen theme for 5 days. At the end of the 5 days all work will stop and we will let you all play the games we have made. you can all then vote on a winner.
Although this is a Nitrome Jam we are open to people outside of Nitrome getting involved. You will have to be able to make a game though! We will have more information about that soon but if you are interested in getting involved then please email us to declaire your interest.
Our plan is to let the Nitrome audience vote on the theme, but first of all we need some themes to vote on. So with that in mind please feel free to suggest some themes in the comments below. When suggesting a theme please note that were not looking for game ideas like 'sequel to Final Ninja' or 'Nitrome Smash Bros'!... Think more, Time travel, surprise or chocolate.
look out for more news soon!