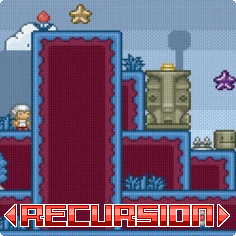 Welcome back to another Monday edition of Pixel love Nitromian's.
This week we will be highlighting a rather neat little game Recursion, a cool little retro puzzle platformer by The Village Blacksmith.
After crash landing on an alien planet it is your task to make it to the end flag in a series of one screen puzzles.
Any fan of the portal genre will be instantly at home here with the games one screen wrapping formula. (Think falling into a pit and back onto the top of the screen again). Throw in tons of variety including enemies, switches, balloons, collectable stars, bubbles, gravity manipulation and you're in for a treat.
Go and Play Recursion now! And make sure to join us next Monday for more. =0)