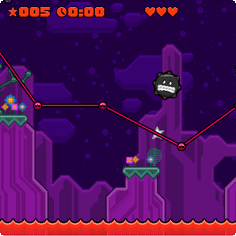 Hi Nitromians!
For this week's 'Memory Lane', we are taking you way back to one of our classic games – Twang!
Twang was made for MTV with programming by Chris Burt-Brown and artwork by Mat and Jon Annal. The game won the Peoples Choice Award at Flash Forward '08 in which Nitrome became the proud owners of a big orange rubber arrow!
In the time of its development, Twang went through many redesigns. An instance of one of the redesigns is of the background environment. Originally, the background features in Twang were made up of red hues and were then changed to purples. After this decision, Jon was often accused of making all of his games purple! :)
We have posted up some early development shots of the game so you can see how the game may have turned out!
Twang Development 1 – Click Here!
Twang Development 2 – Click Here!
Twang Development 3 – Click Here!
Twang Development 4 – Click Here!
Play Twang – Click Here!