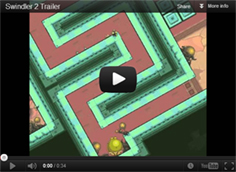 Hello Nitromians,
Today we have launched a teaser video for our soon to be released addition to the Nitrome game catalogue. Swindler 2 is the sequel to one of this year's greatest hits.
This new game introduces mechanics that turn our little green dangler on it's head… literally! This is our first brand new game that will launch with Touchy as a controller option. This is by far the best way to enjoy this rolling action puzzler.
We'll keep you updated on all things Swindler related but for now check out the video to see what it's all about!
Swindler 2 Trailer: Click Here!
Enjoy!