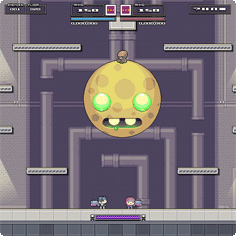 Hi Nitromians!
Our upcoming game Nitrome Must Die (the 100th game) is getting very close to completion now and we are still hoping to have it out this week.
In the meantime we thought we would wet your appetite with a shot from one of the boss rounds. This particular boss is the Cheese Dreams moon which has been infected by the Parasite!
This is just one of the ten bosses in the game!
Nitrome Must Die Preview: Click Here!