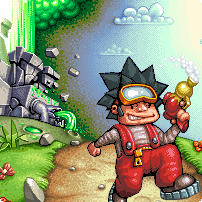 Hey Nitromians,
I have had a MEGA list of things to catch up on since returning from my holiday, meaning Mondays Pixelove slightly later than usual, apologies.
This week's Pixelove shunts us WAAAY back to 2006, ah those were the good old days of Browser gaming.
Acid Factory by Miniclip. There has been a huge chemical leak at the factory and its up to our hero Harry to clean it up. Unfortunately for him there is a whole bunch of traps, mutants and well... ACID to deal with in the process!
Fun fact! the artwork for this game was commissioned by Miniclip from the ever so talented artist Gary J Lucken (aka Army of Trolls). Back in the day I really used to stare at his art and drool. Anyway, let me know what you think of Acid Factory in the comments below.
Happy Gaming Everyone!
P.S Next week's Pixelove shouldn't be late as I've already picked on out. ;)