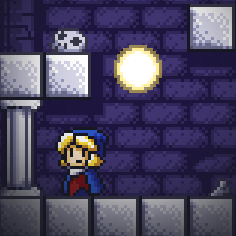 Hi Nitromians,
this weeks Pixel Love is Shine by Adventure Islands. We're a sucker for new concepts at Nitrome and we think this one is a bit of a winner!
The basic idea is that you control a platforming character with the keyboard while at the same time a ball of energy with the mouse. The energy ball makes a circle of light illuminating the room so you have to keep it close enough to the player character in order to see what to do.
The Energy Ball will explode on impact though so as well as keeping the platforming character safe you must be careful to keep the energy ball safe too!
The mechanic offers a surprising amount of depth and it's well worth a play!
On a final note about pixel love you may notice that over the Christmas period we have changed the usual side ad promoting the game to a generic Christmas one. We did this to make it easier for us to maintain this feature while we are away for Christmas.
We will revert back to the previous way of this working in the New Year. Also to make you aware this also means there will be another pixel love for you next week as usual on Monday.
You can play the game here