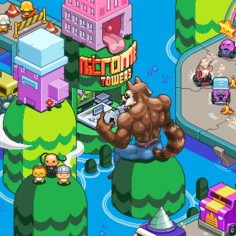 Happy New Year Nitromians!
we are not yet back in the office but we thought it would be good to use the time to cover some of the pixel art we have missed!
we always love it when fans come up with something a little different based on our work and we feel this qualifies nicely. Jeferson Damasceno Lima must have spent many hours adding full colour to our 2.0 Skin!You can see the full image on his account here.
Along with this he also recoloured the original classic skin that you can see here.
It raises an interesting question about our skins that we constantly struggle with at Nitrome. Do we go full colour aka the Party skin or does the busyness of that make the site ugly or harder to use? Should we go more minimal? Or is the variety of approaches the way to go letting the user just pick their preference?
Either way I think we can all agree that it is pretty cool seeing these images in full colour!