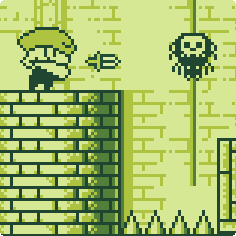 Hi Nitromians!
We have Tiny Dangerous Dungeons by Jussi Simpanen to share with you as our Pixel Love choice this week!
We have chosen Tiny Dangerous Dungeons because we feel that this game has really succeeded with its convincing retro Game Boy visuals and sound design.
The difficulty curve progressed gently enough for us to keep playing for a long while without getting frustrated. This was helped by the introduction of different abilities that your hero can find along the way.
We felt that we made good use of the handy save/restore points in this game too and they were a welcome feature on some of the tougher areas!
Click to Play Tiny Dangerous Dungeons
Have fun everyone, we'll bring you more Pixel Love next week!