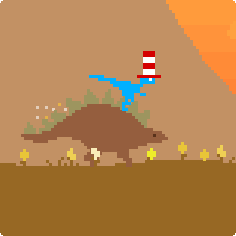 Hey Nitromians!
We've decided to choose Dino Run: Enter Planet D, created by PixelJAM, for today's pixel love game!
As with previous Dino Run games, you take control of a dino surfing on the edge of doom which is all beautifully rendered and depicted in low-res, retro style graphics which boast stunning, fluid animations.
In this one, you get to customize your dino with hats (of which there are a good number of recognisable pop culture symbols to choose from) and you can alter your dino's colour.
If you enjoyed playing this game, why not head over to PixelJAM's Dino Run 2 Kickstarter page to see what they are aiming to achieve with that project. Dino Run 2 looks like it could be something very special, so lets hope they meet their target!
Click to Play Dino Run: Enter Planet D
As always, have fun and we will bring you another Pixel Love game next week!