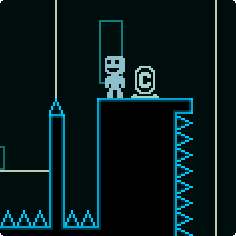 Today we have chosen VVVVVV (the demo version) made by Terry Cavanagh as our pixel love choice this week!
In this game you navigate through the levels by reversing your gravity to move your hero around obstacles and enemies.
The simplicity in this game's design is what really makes it stand out. It makes full use of the gravity switching mechanic, which has been fully explored to bring the player a wide variety of puzzles to solve.
We really enjoyed the energetic chiptune music too, it fits in perfectly with this game.
Play VVVVVV: Click Here!
Have fun and we will bring you more Pixel Love next week!
If you enjoyed playing through the demo version and want more, you can get the VVVVVV full game on Steam.