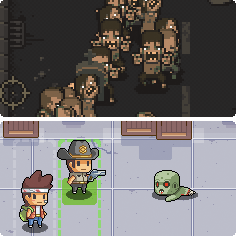 Hi Nitromians,
This week we thought it would be a great idea to introduce you to two pixel love games as a halloween celebration! Although we think that they are both great Halloween game choices, we do feel that they should come with a maturity warning. So...
CAUTION:
Unlike our Nitrome games, the following titles contain mature themes that may be unsuitable for some audiences. They both contain profanity and violence, so viewer discretion is advised!
This game was created by the very clever folk at Secret Base. The game will have you surviving hoards of the undead, collecting weapons and also comes with an awesome-o-meter to unleash your... awesomeness. Save survivors, vips, collect money, weapons and power ups. Both the SFX/BMG and graphics in this game are beautifully crafted.
Fliptic's Halloween treat comes in the form of a "hold the line" defense game. Dead End will find the strategist within you. You will need to plan your hero's placements very carefully if you want to survive! Adorably drawn cute sprites are something that we almost come to expect from Fliptic by now and the style in this one, although still adorable, has a bit of a creepy edge! Watch out for the spitters and dodgers in this!
We hope this is a great start to your Halloween week!
Play Bytejacker: Click Here!
Play Dead End: Click Here!
Enjoy!