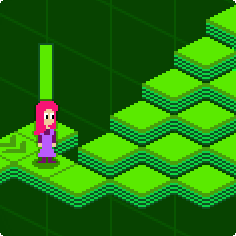 Hi Nitromians!
Today's Pixel Love game is... Naya's Quest created by Terry Cavanagh.
This is a real mind bender of a game. You set out on your quest making your way to the "edge". Along the way you will have to traverse some very tricky levels, using your trusty cross-section scanner as a means to better judge your next move. We thought the concept of this game was great, and fell for nearly all of the illusion based traps!
Play Naya's Quest: Click Here
Terry Cavanagh also has a fast paced, frantic avoidance game out for iPhone that we also think is awesome. Check Out Super Hexagon
Have fun everyone, we'll bring you more pixel love next week!