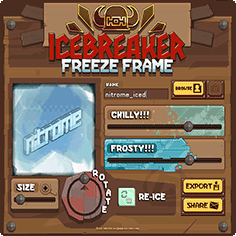 Hi Nitromians,
Only 2 days to go until Icebreaker will at long last be available for all you lovely people to purchase!
To help get you ready and help us spread the word we're thrilled to lift the lid on a little side project we have been working on called Icebreaker: Freeze Frame. It is available now so go and give it a whirl!
Make faces as if your trapped in the ice like the Vikings in the game then send that picture to a friend or perhaps just save it and use it as your Facebook profile picture to help us spread word about the game! Alternatively perhaps you have other things you might want to 'freeze frame'. Do show us what you come up with and we might post some of the more striking ones to the Nitrome blog and Icebreaker site!
Freeze Frame: Click Here!
have fun :)
Only one more day to go after this and as a final update before launch we wanted to finish off the characters page. If you head over to the characters page you can now see the full roster of characters that will be in the launch version of the game!