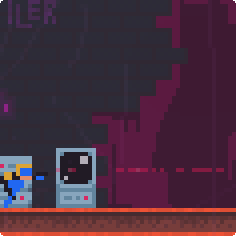 Hi Nitromians!
Today's Pixel Love game comes in the form of the gravity shifting, fast paced, action packed side scroller Quantum Corps!
We enjoyed the run and gun nature of this one and felt that the difficulty curve was intuitive to start off with making it easy to pick up the controls early on. It soon turns into a real challenge as you progress though! The artwork is impressive too.
Also, just a quick warning. There are some red pixels in this one! ;)
With that said, have fun trying not to fall off the screen!
Play Quantum Corps: Click Here!