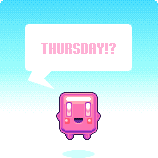 As the Easter weekend is on its way, we are going to be bringing you a Thursday Update!
We won't be back in the office until Tuesday next week, which means we won't be featuring a Pixel Love game next Monday.
Don't panic! I'm sure that we will think of something we can bring you next week, so we will see you all then!
Enjoy the long weekend everyone! :D