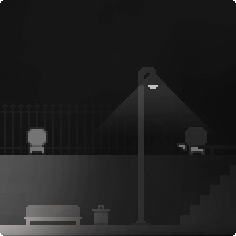 This weeks Pixel love goes out to Five, a nifty little puzzle platformer by Z3LF
This reminds us a lot of the Continuity series or our own In The Dog House game. In which the player must navigate a series of rooms by swapping them via the mouse. The big problem being that not all of the rooms quite line up how you might expect, and there's a tough five minute timer in place for added pressure.
Z3LF have really managed to cram a lot into this five minute little package. It's got bags of atmosphere, nice music, cute little tiles/sprites and even a small story in there to boot. The controls can be a little fiddly at times (especially when you first realise that the rooms have to connect for the player to be able to continue). But with that tiny hiccup aside it's an endearing little game with bags of charm and well worth five minutes of your time.
Play Five: Click Here!
Join us next week when we dish out a great big dollop of love to another great Pixel love gem.
p.s Thanks from the heads up Santiago Gonzalez Martin for pointing this one out to us over on our Facebook wall. If there are any other Pixel love games that you would like to see highlighted then feel free to let us know.