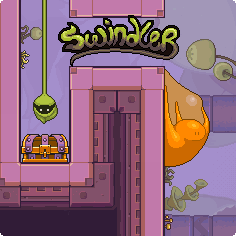 Hi Nitromians!
Remember the preview image and teaser video we posted recently?
Well, we're very pleased to announce the arrival of our newest game. Drop, tangle and roll your way through Swindler!
Many of you have been comparing it to one of our older games, Dangle. Its rope mechanics does indeed share some similarities, both with that and the final ninja series.
This time, however, we've added 360 degree twists to the proceedings. Now you can rotate the whole world around you to get where you're going!
As always, your feedback is always appreciated. Comment us on Facebook, Twitter and trusty email. Game away!
Swindler: Click to Play!