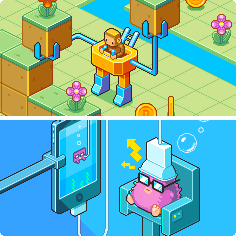 We're constantly growing here at Nitrome to meet the demands of our very loyal and expanding audience and happy to say that we are at that point again where we are actively looking to recruit some fresh members for the team. More importantly we have two positions that we have never looked into recruiting before….a dedicated iPhone/iOS programmer and a dedicated level builder!
If you're interested in any of the roles or just want to see some new artwork we have made then you will want to check out the all new jobs page!
Please read all of the requirements of the job page as we will not reply to emails that do not send in what we ask for on that page!