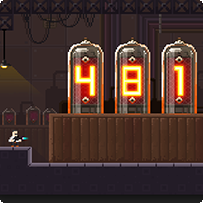 Hey Nitromains,
I have been listening to your cries in the blog for this weeks missing Pixellove, so without further ado...

Play infiniy inc, by The Shpufa's

Infinity inc, a derelict and deadly facility. (Made for what I can only assume as some sort of sadistic test chamber).

You and your trusty disposable clones must use your grey matter and a bit of good old sacrifice to fight your way through the chambers.

***WARNING!*** this one does contain quite a few low rez red pixels and some crude humour. You have been warned, anyone who is afraid of red squares then this is not for you!
A polished experience with solid atmospheric effects, sound and some neat puzzle makes this a worthy addition to Pixellove.
Let us know what you think of Infinity inc in the comments below.
Happy gaming.