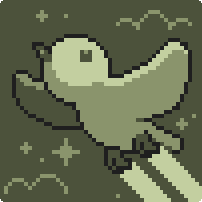 Hey Nitromians,
We have some great news!
Endless Doves has been submitted to the App and Google Play stores. So once it has been approved it will be finally ready for release.
The other good news is that as it has been made using Unity, this means that it will be available on iOS, Android and our website. Oh and did we mention that it'll be FREE!

For those of you haven't been following, Endless Doves is a brand new game based on our premium mobile title 8Bit Doves.

As the title suggests this time you will not be flying towards a set finish line at the end of a level. Your goal is to fly as far as possible without crashing all whilst frantically collecting as many doves as you possibly can. It's a score based game so you can brag to your friends and even try to beat each others high score.
New birds can be unlocked via the shop Aviary and then used in-game. As you expert bird collectors will find, there is a lot more than just birds that can be unlocked. Any guesses on what they might be?

You can check out a few screen shots here!

More news on this game as and when it is ready for release.