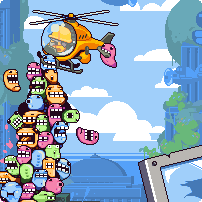 Hi Nitromians!
As you can see, we've got a brand new website skin featuring characters from our Oodlegobs and Rubble Trouble games. We call it... ...Oodle Trouble!
We really like the way the Oodlegobs are climbing up to grab hold of the helicopter.
What do you think of the new web skin and colour scheme?
Let us know your thoughts in the comments below!