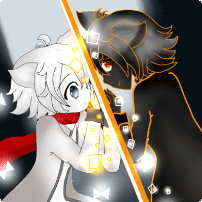 Hey Nitromians,
So you all REALLY liked Ditto huh! The sheer amount of ditto fan art we have seen so far has been really awesome.
First off, is this lovely anime styled piece by Nitzumi over on Deviant art.
There has also been some really nice Ditto fan-fiction written by Random-StoryKeeper over on Deviant art. And also another great written piece by Plasmaster over on the Nitrome wiki. Be sure to give them both a read when you have a spare few minutes.
If you have no idea what they are talking about, then it's time that you completed Ditto and see what the fuss is all about.
We love receiving fan art, so please keep sending us links to what you have made and we'll feature our favourites =)