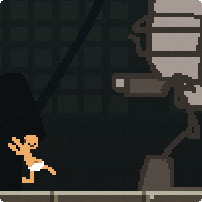 Here is our second Pixel Love choice, Hobo Bob. This game was created by Wolve. Many of you may know him from his Nitrome Jam entry: The Mind.
This endless runner really is action packed and very addictive!
We found the best finger placement for this game is similar to home row, but with your right hand shifted one key to the left... so:

LEFT HAND
A S D F
RIGHT HAND
H J K L
It is very satisfying completing this one! Once completed, you are given an Infinite mode to play.
Have fun, we'll bring you more Pixel Love next week!