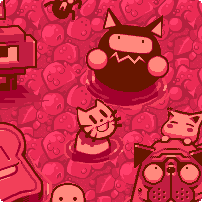 Hey Nitromians,
Phew... what a hot and busy week it's been over at Nitrome HQ. We have a brand new site skin for the website, featuring lots of characters from the #nitromejam.
For those of you who missed it we have finally sorted the issues for the #nitromejam games. Results for the winner will be announced next Friday so you can play, comment and vote for them here.
Thanks again for everybody who took part in the jam and all our fans for being so awesome, it really was great fun.
Next week we should be getting things back to normal. That means a regular Monday Pixel love slot, back to work on updating the accounts and continuing making some brand new games (more news on these when they're ready).
Until Monday, have a great weekend.
p.s What's you're favourite Jam game?

Nitrome =D