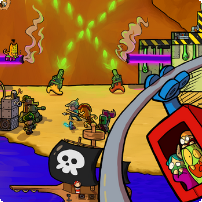 Hey Nitromians,

http://bit.ly/1ub1vI1

We have just noticed this fantastic piece of Nitrome fan art which includes the first 100 Nitrome games. Its a serious masterpiece and all of us here at Nitrome HQ are in awe at the amount of work that has been put into this.

Huge thanks and congrats to CartoonSpider over on Deviant Art =)

To fully appreciate the piece make sure you click and zoom in. We had a lot of fun trying to spot all of the nice characters and game references.