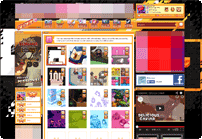 Hey Nitromians,
For those of you who haven't noticed, we have just released a BRAND NEW SKIN!
We thought that our last skin was a little out dated, being a winter theme and all. So we have made a brand new Ditto based background for you all.
Why Ditto? I hear you ask. Well... in a nutshell, it's one of our latest games and one that we are particularly proud of. For those of you who missed the game you can play Ditto here.
You can change the website background, view the full skin, or even download it by visiting the skin page here: http://www.nitrome.com/skins/
Are there any other games that you would like to see have their own skin?
We hope you enjoy it :)