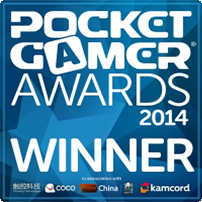 Wow Nitromians,
We can't belive we actually won, not 1 but 3 awards at the Pocket Gamer Awards!
We won Best Casual/Puzzle Game, Best iOS game and the big one... BEST OVERALL GAME!
This means we beat not only all games on mobile that were released this year but on handheld formats too like the 3DS and Playstation Vita. It is very humbling to think our little team could beat a Zelda game in an award!
A huge thankyou to all that voted for us!
Heres a link to the page with the winners and you can see what we were up against by clicking the 'Nominations' button: