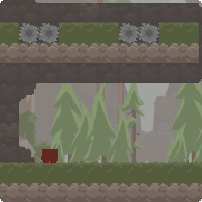 Hi Nitromians!
Today's Pixel Love game comes in the form of the fast twitch reflex platformer Meat Boy by Edmund McMillen and Jonathan McEntee!
WARNING: THIS GAME CONTAINS CONTENT THAT WE FEEL IS SUITABLE FOR A MATURE AUDIENCE.
Many of you may know that there is a Super Meat Boy game which is out for sale. We thought that it would be great to revisit it's humble Flash beginnings as it boasts a lot of what makes Super Meat Boy so great, although you get much more content from Super Meat Boy. Some levels are as hard as nails, but you get genuine satisfaction from completing them.
Your objective is to make your way to band-aid girl whilst being mindful of a multitude of obstacles and traps.
You can also create your own levels using the map editor to create even tougher challenges!
Have fun, we will bring you another Pixel Love game next week!