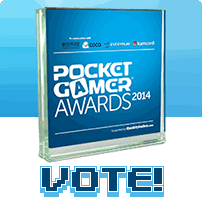 Hi Nitromians,
were thrilled to announce that Pocket Gamer have placed Icebreaker in their list for not only best puzzle/casual game of the year, not only best iOS game of the year but also best Overall Game of the year! To be considered up against the best handheld titles is quite humbling!
This is a public vote so if you like Icebreaker and think it is worthy you can help us potentially win by casting your vote!
You can vote for us at the following link. Remember we are in the 'Best Puzzle/Casual Game','Best iOS Game' and 'Best Overall Game' catagories.
A big thankyou to everyone who chooses to support us and we will keep our fingers crossed for the results!