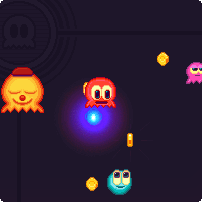 Hi Nitromians,
Today's pixel love is Scamper Ghost. It's sort of Pac-Man mixed with a mouse avoider and it has a ton of style. Use the mouse to collect pellets and power pills while avoiding the ghosts for as long as possible!
Though the game was launched back in 2009 it recently came back to our attention because it has been involved in a news story with King (makers of Candy Crush). King have recently been hitting the news with the story that they are trade marking the words 'Saga' and 'Candy' sending out notices to developers that use those words to take down their games or change their names. King say that they are just protecting their Intellectual Property but when you have games like 'Banner Saga' and Candy Slots' which bear no resemblance to Candy Crush Saga get caught in the crossfire it's understandable why this has became a big story.
Relating to this story it seems that back when Scamper Ghost came out it was originally offered a deal from King to publish the game. When they were offered a better deal from Max Games rather than walk away King decided to ask another developer the chance to clone the game resulting in the game 'Pac Avoid'. Not only is the game a very close clone of the game they offered to buy but it also heavily uses the 'Pac' from Pac-Man name which has lead people to call them hypocrites when trying to make others take their games down.
Regardless of what you think we felt that Scamper Ghost was a good game and this was a good time to feature it. If you want to play it you can using the following link: Scamper Ghost
If your interested in the back-story to this then you can read more about the Cloning debate here and Kings trade marking of common words here.