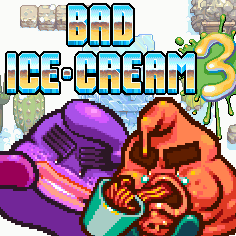 Hi Nitromians,
It's done and with a full moments to spare too before the Nitrome team head of for their Christmas adventures! Bad Ice-Cream 3 was a real team effort combining many different people to get the game ready much quicker than it would normally take! Don't think that means we cut corners though as this sequel is brimming with new monsters, new fruit and new ice-cream!
Oh you may want to get right to the end of this one ;)
You can play Bad Ice-Cream 3 here!
Enjoy!
Just a final note that due to the last minute release of the game there could be some bugs...though we did play it through a few times. If there are any we will fix them when were back in the office after Christmas but please do report them to us.